What's more hair-raising than vampires, witches, and werewolves? A Halloween pet emergency can be pretty scary if your beloved pet's life is at risk. Our
emergency department
sees an increase in pet emergencies each Halloween, many of which are avoidable if you are aware of common dangers. We are always here if your pet is in trouble, but knowing the Halloween hazards that may be lurking in your home and neighborhood will help you enjoy a safe holiday with your furry friend.
Treats that can cause pet toxicity
Many trick-or-treat favorites can cause toxicity in your pet, so take precautions to ensure your pet does not sneak treats such as chocolate bars, Raisinetes, or sugarless gum when you're not looking. These particular treats contain dangerous ingredients, but indulgence in any food your pet does not normally eat can cause gastrointestinal upset, and if she accidentally gobbles down candy wrappers or a lollipop stick, a life-threatening intestinal obstruction may result. 
Specific ingredients that are potentially toxic to your pet include:
If you are celebrating the holiday with a neighborhood block party, watch your pet closely and ensure well-intentioned friends don't slip her any treats. Ingestion of fatty foods may cause pancreatitis, a severe inflammation of the pancreas that often requires hospitalization with intravenous fluids and intensive care for recovery. Beverage ingredients can also be toxic to your pet, so keep cola, coffee, and alcoholic drinks out of her reach. 
If you think your pet may have eaten toxic treats or food containing a dangerous ingredient, call your family veterinarian or, if it's after hours,
contact us
immediately.
Disastrous decorations that can cause pet injuries
As you choose Halloween decorations, keep your pet's safety in mind, and remember that anything your pet can reach can be chewed, knocked over, or eaten. Take care with these Halloween decorations:
Candles

— Although jack-o'-lanterns and flickering candles add a creepy effect to your Halloween party, if your pet knocks over a lit candle, she could be burned or cause a fire that puts your family in danger. Choose battery-operated flickering lights instead of open flames.

Electric cords

— If your pet chews an electric cord, she could be electrocuted or suffer severe burns to her face and mouth. Tuck all cords safely out of the way so they don't tempt a curious dog or cat. 

Pumpkins and corn stalks

— These seasonal decorations brighten up your front porch, but they can become moldy during damp October nights. Some molds produce dangerous toxins that may sicken your pet if she gnaws on your decorations.
Also, think twice about creepy decorations that make noise, light up, or move that could scare your pet and cause her to flee.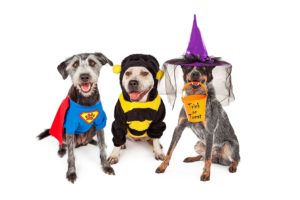 Beggar's Night pet escapes
You may enjoy the parade of costumed trick-or-treaters repeatedly ringing your doorbell, but imagine Halloween night chaos from your pet's perspective. Your pet may see loud strangers in scary costumes reaching for her rather than cute kids wanting to pet her. Anxious pets who feel overwhelmed may slip through an open door and become lost, or worse, hit by a car. Beggar's Night can be downright scary for your pet, and she may be more comfortable spending the evening in a quiet back room, or her crate. Spend extra time with her during the day, and spoil her with a new toy or special treats while you enjoy the festivities. If she is stressed by the constant knocking or doorbell, consider giving your guests the treats outside.
Mischief Night pet mishaps
Halloween and Mischief Night, which some people celebrate on October 30, are typically light-hearted, fun holidays, but they can occasionally take a darker turn. Animals can fall victim to sick pranksters who may torture, injure, or kill them. Black cats are often the target of these horrible incidents, but any animal could be at risk. Ensure your pet does not suffer at the hands of an evil vandal by keeping her inside and supervising her closely if she needs to go outside, including in your own backyard.
We hope you celebrate a safe Halloween with your furry friend. If you have questions about preventing a holiday emergency, speak with your family veterinarian, or
contact us
if you have questions or problems after hours.